If you want to learn how to bake delicious multigrain spelt bread, then this is the recipe for you. These tips will give you perfect bread, every single time.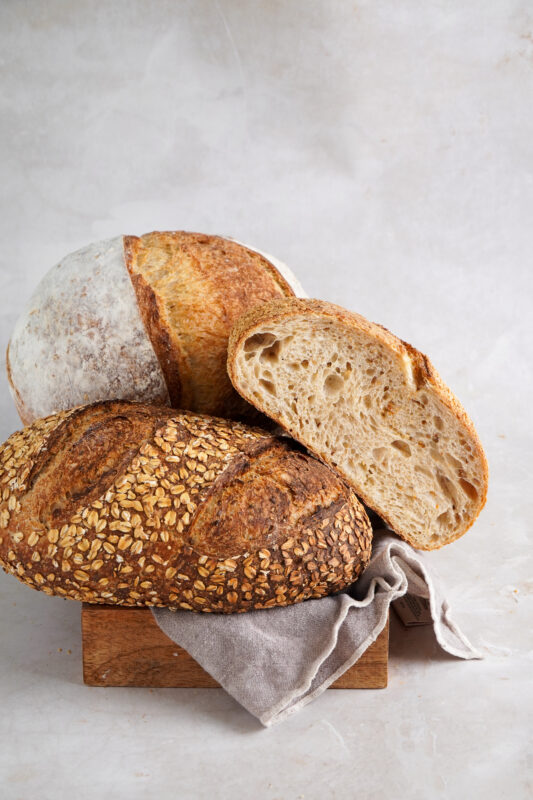 One of my favorite things about this multigrain spelt bread is that you get a mix of grains and nutrients. Since it uses white bread flour, spelt flour, and the soaked combination of quinoa, flax, and other grains, you'll enjoy more minerals and different nutrients than if you baked with just one type of flour.
But the health aspects aren't the only thing my family loves about this bread. My husband makes some incredible sandwiches, and since this bread isn't as fluffy as the basic sourdough recipe, it holds up better to whatever filling and spreads he uses.
Plus, the combination of grains in the bread gives it a unique nutty flavor that pulls my kids to it.
There is something that everyone loves about this spelt multigrain recipe.
What Is Spelt Flour?
Spelt flour comes from the ancient grain spelt. What is spelt? In the 19th century, people stopped using spelt to make bread because modern wheat varieties were more popular.
There has been a recent resurgence in spelt's popularity after more and more people heard about how nutritious it is and how delicious it tastes.
Is it really healthier? Spelt has a tough outer husk that protects the nutrients inside the grain, so it has more nutrients that other types of grain. It's a fantastic source of dietary fiber, protein, and essential minerals like manganese, magnesium, phosphorus, and zinc.
Spelt flour comes in two forms – white and whole spelt.
To learn more about white spelt flour, read my white spelt flour recipe.
This recipe uses whole-grain spelt flour, and there are some important things you'll do differently when you bake with it instead of white spelt flour.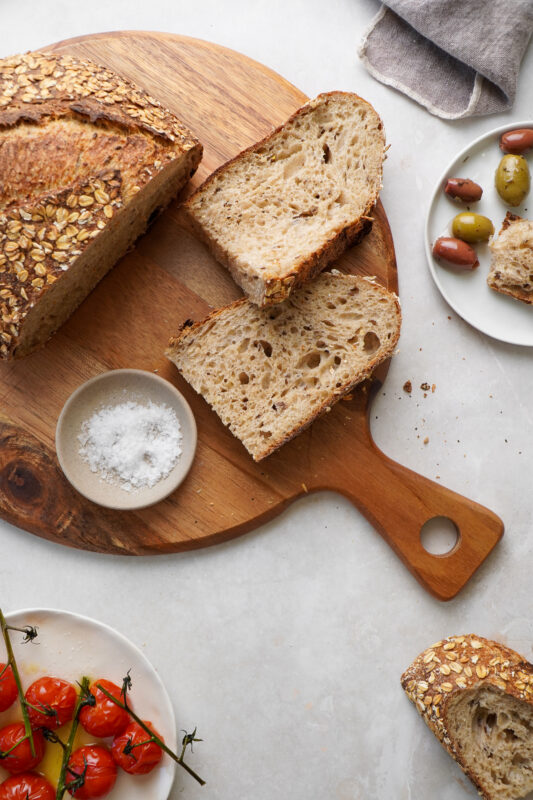 Baking Tips
When you bake with whole grain spelt, there are a few things you'll have to do differently when compared to basic sourdough or white spelt bread.
High Hydration: The Secret To Light Whole Grain Bread
Whole grain spelt absorbs a lot of water. The trick to a light whole grain bread is high hydration and soaking your whole grains 4-6 hours before using it, so the grains don't deplete the bread from all the water. This recipe calls for soaking the grains 6-8 hours before you are ready to put up your dough soak the grains when you feed your starter.
When you increase the water content in the dough, you'll get a softer and less dense crumb. The high hydration level in this recipe ensures a moist and airy multigrain spelt bread, making each bite a delightful experience.
The Art of Soaking: Unleashing Grains' Full Potential
Soaking grains prior to using them in the bread dough is a crucial step in maximizing their nutritional benefits. The soaking process helps break down phytic acid, a natural compound present in grains that can hinder nutrient absorption. By soaking the grains for 6-8 hours, the bread is enriched with readily available nutrients and promotes easier digestion. Additionally, soaking softens the grains, leading to a more pleasant texture in the final product.
Less Starter, More Flavor: Balancing Whole Grain Fermentation
Whole grain flours tend to ferment at a faster rate compared to refined flours. To maintain a balanced fermentation process and avoid an overly sour taste, this recipe calls for a reduced amount of sourdough starter. This adjustment allows for a longer fermentation time, allowing the flavors to develop harmoniously without overpowering the delicate nuttiness of the multigrain spelt bread.
Use Just Spelt Flour
In this recipe you'll notice I used both white bread flour and spelt flour. If you want to use only spelt flour in your bread, swap out the white bread flour for white spelt flour. Keep in mind that if you do this, you will alter the texture of the bread. The bread flours will give you a fluffier dough.
Divide In Half
This recipe yields a large loaf, you may divide it in half for 2 smaller loaves.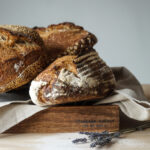 Sourdough Multigrain Spelt Bread
If you want to learn how to bake delicious multigrain spelt bread, then this is the recipe for you. These tips will give you perfect bread. 
Servings
Equipment
Large Bowl

Bowl Cover

Dutch Oven
Ingredients
Soaker
50

grams

Oats

50

grams

Quinoa

10

grams

Flaxseeds

10

grams

Chia

135

grams

Room Temperatue Water
Bread
90

grams

Active Sourdough Starter

250

grams

Bread Flour

250

grams

Whole Spelt Flour

335

grams

Water

Soaked Grains

10

grams

Salt
Instructions
Prepping The Dough
6-8 hours before you are ready to prepare the dough feed your starter and soak the grains.

In a large bowl combine the starter, flour, soaker and water.

Mix until well incorporated.
Autolyse
Cover the bowl and leave to rest for 60-90 minutes.

After you let the dough rest add 25 g of water and 10g salt and knead until salt and water is combined into dough.
Bulk Rise (a.k.a. 'bulk ferment')
Cover and set the bowl in a warm area (75-80 degrees) for 3 to 4 hours or for 6-8 hours in a cooler place.

During the bulk rise, perform stretch and folds every 30-60 minutes. Towards the last hour fold more gently to avoid pressing gas out of the dough.
Bench Rest
Scoop the dough onto the countertop.

Lightly flour the top of the dough. Very gently turn over the dough so the floured side is face down, and fold the dough on all 4 ends, gently shape into a round boule.

Leave to rest for 20 minutes. The edges should be round and thick (it's ok if it flattens a little) but they should not taper off. If they do taper or flatten off, reshape, and let sit for another 20 minutes (this is like doing another set of folds during the bulk rise).
Shaping
Sprinkle a lined bowl or banneton with 50/50 flour blend of rice and white wheat flour.

Fold bottom third up, right side third over, left side third over, top third over and then roll the entire loaf over and gently pull toward you letting tension form the loaf (at this point you can make the top of your dough a bit damp and roll in oats.

Place the shaped bread in the prepared bowl.

Let rise for 3 to 4 hours at room temp or place in refrigerator for up to 12 hours (known as 'retard').
Baking
Place your Dutch oven in the oven and preheat the oven to 500 degrees.

Gently place the dough into the Dutch oven and score the top of the bread.

Bake at 500 degrees covered for 20 minutes.

Remove lid, lower temperature to 450 and continue to bake for an additional 20 – 30 minutes until crust is a rich dark amber color.

Let it cool on wire rack.