This ancient grain is making a comeback and now you have a no-fail white spelt bread recipe at your fingertips. Learn all about this high-fiber grain, including how to bake spelt bread at home.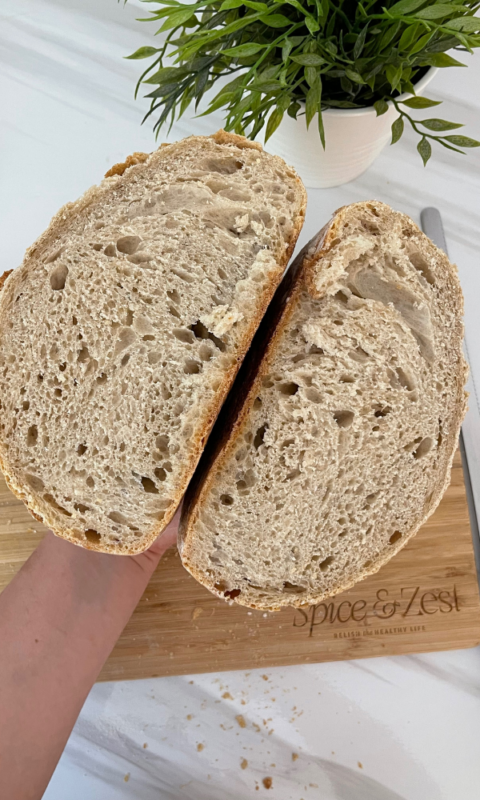 When we started our health journey, I was looking for a better alternative to white bread flour. My husband is known for his delicious sandwiches, and he was not ready to give it up. I started experimenting with spelt flour after I heard about how it was supposedly so gentle on people's stomachs. But the bread didn't turn out the best, and I found out that spelt actually didn't agree with my family.
So, I continued to search for a healthier alternative until I stumbled upon sourdough. All of a sudden, we enjoyed delicious sandwiches again without upset stomachs.
Are you curious about baking with spelt? Then this article is for you!
In this guide, I'll answer all your questions about spelt bread (and I've received a lot). Is spelt healthier than wheat? Is it gluten-free? How do you bake with it? If you have questions about baking with spelt flour, then keep reading. This guide is for you.
What Is Spelt Flour?
Spelt flour is a type of flour derived from the ancient grain spelt. It fell out of favor in the 19th century as modern wheat varieties took over but has seen a resurgence in popularity in recent years due to its nutritional benefits and unique flavor.
The grain has a tough outer husk, which protects the nutrients in the grain, making spelt a highly nutritious flour choice. It's rich in dietary fiber, protein, and a range of essential minerals such as manganese, magnesium, phosphorus, and zinc. It also contains a good amount of B vitamins.
Spelt flour comes in two forms – white and whole spelt.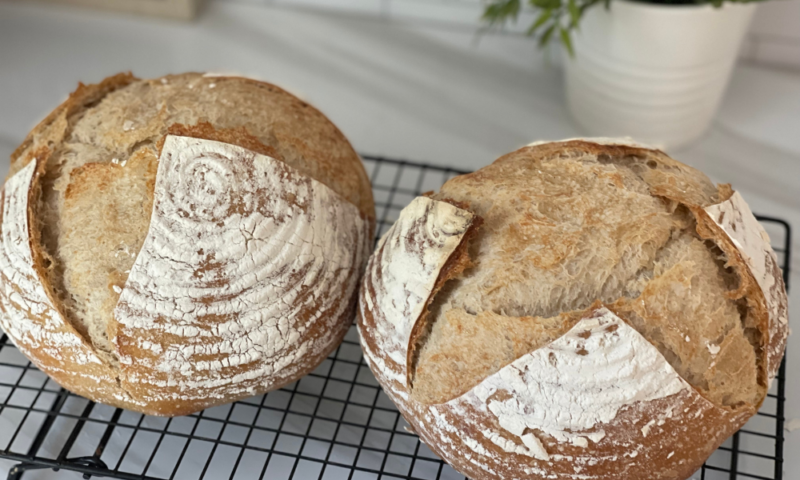 What Is The Difference Between White and Whole Spelt?
There are a few very important differences between white and whole spelt flour, so let's look a bit closer at them.
White Spelt Flour
White spelt flour is made by removing the bran and germ, leaving just the starchy endosperm. This results in a lighter flour that is easier to work with, especially in recipes that call for a tender crumb.
While it's easier to work with than whole spelt flour, it still poses a slightly greater challenge than traditional wheat flour due to the different gluten structure and absorption properties. It's also important to note that white spelt flour, though still nutritious, contain less fiber and fewer nutrients than its whole spelt counterpart.
Whole Spelt Flour
Whole spelt flour is made by grinding the entire spelt grain — including the bran, germ, and endosperm. The presence of the bran and germ gives this flour a darker color and results in a denser, more fiber-rich baked product.
Is Spelt Gluten-Free
One of the biggest misconceptions is that spelt is gluten-free. It has this reputation because spelt is known for being easier for gluten-sensitive people to digest.
But it's important to note that spelt flour does contain gluten. It is not suitable for those with celiac disease or a gluten intolerance. However, some people who have a sensitivity to modern wheat find they can tolerate spelt.
If you're sensitive to gluten, you don't have to exclusively use spelt. Even though it has lower gluten than wheat flour, making sourdough in general (even with bread flour) is just as gentle on your gut. You don't have to use spelt to get those digestion benefits.
Once you have the starter and make sourdough, your body will experience the same benefits whether you use spelt or wheat flour. Remember, the fermentation process breaks down the gluten – whether you use spelt or wheat.
That being said, there are some health benefits of spelt that wheat doesn't have.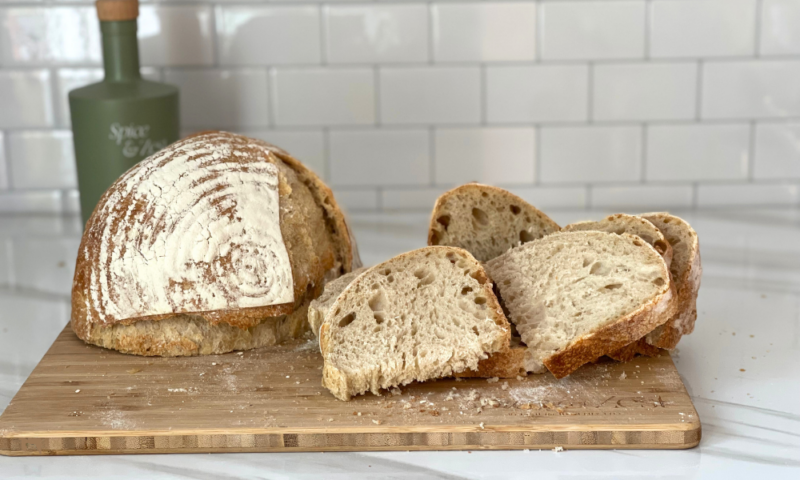 Spelt Health Benefits
One of the biggest reasons it's becoming so popular is because spelt is so good for you.
This ancient grain has a lot to brag about! Here are just a few of the biggest nutritional benefits of spelt:
Non-GMO: Since this is an ancient grain, it hasn't been genetically modified.
High-Fiber: Spelt has 11 grams of fiber per 100 grams of flour
High Protein Content: Spelt has 14.6 grams of protein per 100 grams
Excellent Source of Iron: This is really good for energy production and immune system support.
Spelt also contains the following essential nutrients:
Magnesium
Potassium
B Vitamins
Vitamin E
Amino Acids
Baking Challenges
As good as spelt is for you, it poses some challenges when you bake with it.
The most challenging thing about spelt is that it behaves differently regarding hydration. In other words, it absorbs less water than wheat flour. So, you'll have to adjust the water content in your recipe if you're using spelt instead of bread flour.
When I bake spelt bread, I usually add less starter (compared to my basic bread recipe). You don't need as much starter in spelt dough because spelt makes the starter grow faster.
Don't be disheartened if your first few attempts aren't perfect – baking with spelt often calls for a bit of practice and trial and error. But trust me, the results are worth the effort!
Don't Skip The Stretch and Fold
When I make basic sourdough, I usually skip the stretch and fold step, but when you bake with spelt, this step is very important.
Spelt is more delicate, so you have to work the gluten in the dough. Stretching and folding it is the best way to incorporate it.
Without further ado, let's dive into the recipe!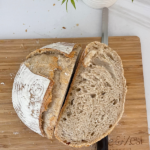 White Spelt Sourdough Bread Recipe
This ancient grain is making a comeback and now you have a no-fail white spelt bread recipe at your fingertips.
Servings
Equipment
Large Mixing Bowl

Towel

or something to cover the bowl with

Dutch Oven
Ingredients
90

grams

Sourdough Starter

305

grams

Water

500

grams

Flour

7

grams

Salt
Instructions
Preparing the Dough
In a large bowl combine the starter, flour, and 275g water.

Mix until well incorporated.
Autolyse
Cover the bowl and leave to rest for 60-90 minutes.

After you let the dough rest add 30g of water and 7g salt and knead very well until salt and water is combined into dough.
Bulk Rise (aka Bulk Ferment)
Cover and set the bowl in a warm area (75-80 degrees) for 3 to 4 hours.

During the bulk rise, perform stretch and folds every 30-60 minutes. Towards the last hour fold more gently to avoid pressing gas out of the dough.
Bench Rest
Scoop the dough onto the countertop.

Lightly flour the top of the dough. Very gently turn over the dough so the floured side is face down, and fold the dough on all 4 ends, gently shape into a round boule.

Leave to rest for 20 minutes. The edges should be round and thick (it's ok if it flattens a little) but they should not taper off. If they do taper or flatten off, reshape, and let sit for another 20 minutes (this is like doing another set of folds during the bulk rise).
Shaping
Sprinkle a lined bowl or banneton with 50/50 flour blend of rice and white wheat flour

Fold bottom third up, right side third over, left side third over, top third over and then roll the entire loaf over and gently pull toward you letting tension form the loaf (at this point you can make the top of your dough a bit damp and roll in oats.

Place the shaped bread in the prepared bowl.

Let rise for 3 to 4 hours at room temp or place in refrigerator for 8-24 hours (known as 'retard').
Baking
Place your Dutch oven in the oven and preheat the oven to 500 degrees.

Gently place the dough into the Dutch oven and score the top of the bread.

Bake at 500 degrees covered for 20 minutes.

Remove lid, lower temperature to 450 and continue to bake for an additional 20 – 30 minutes until crust is a rich dark amber color.

Let it cool on wire rack.