Making basic sourdough bread is shockingly simple. This is such an easy recipe that anyone can make delicious and fluffy homemade sourdough bread.
All you need is a few basic ingredients, some time, and patience, and you'll have the perfect loaf of sourdough bread in no time. Get ready to enjoy the freshest, most flavorful bread you've ever tasted. So if you're looking for a basic sourdough bread recipe that's easy to follow, look no further!
Baking Sourdough Bread The Easy Way
It looks impressive, but baking sourdough bread is actually one of the easiest things you can do. Don't believe me? Here's a summary of the recipe – just look at how simple this is:
Put up your starter 6-8 hours before you want to bake (you can manipulate the starter to go faster or slower in heat or cold temp)
Mix flour, water, and starter.
Wait 30 min then add the salt and knead the dough for 5-7 minutes
Leave the dough to rise for 4-6 hours (depending on temp)
Shape the dough
Put it in a basket and refrigerate for up to 24 hours
When ready to bake, preheat the oven.
Score the bread and bake.
That's it!! See? Anyone can do that!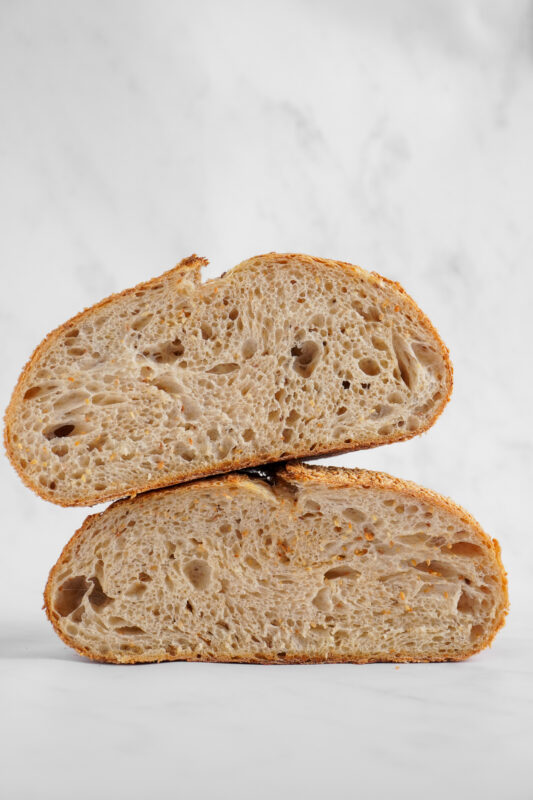 Sourdough Basics
If you're here, you're ready to grab a mixing bowl and make your first loaf! Congrats! (My favorite recipe is at the bottom of this post)
If you still have questions about what sourdough is and how to make a starter, then check out my free resources.
Making sourdough bread can be an intimidating task for beginners, but with the right recipe and some patience, anyone can make a delicious loaf of bread. The most important ingredient is the sourdough starter, which is used to give the bread its characteristic sour flavor. This starter needs to be fed regularly and cared for to ensure that it remains healthy. Once you have a healthy starter, you are ready to make your first loaf!
Babying The Bread Dough
Even with a simple recipe like mine, some people are still worried about how time-consuming it seems. They feel intimidated to start baking because they don't want to "baby" the dough and be around to do stretch and fold every 30 minutes.
What if I tell you don't have to do it?
As a matter of fact you can prepare the dough and forget about it for a few hours! I perfected a method that doesn't require the stretch and fold.
Stretch and fold works on strengthening the gluten. What I do is knead the dough an extra 5-7 minutes when adding the salt which essentially does the same thing to the dough like stretch and fold. Voila! You just saved yourself 4 hours of sticking around.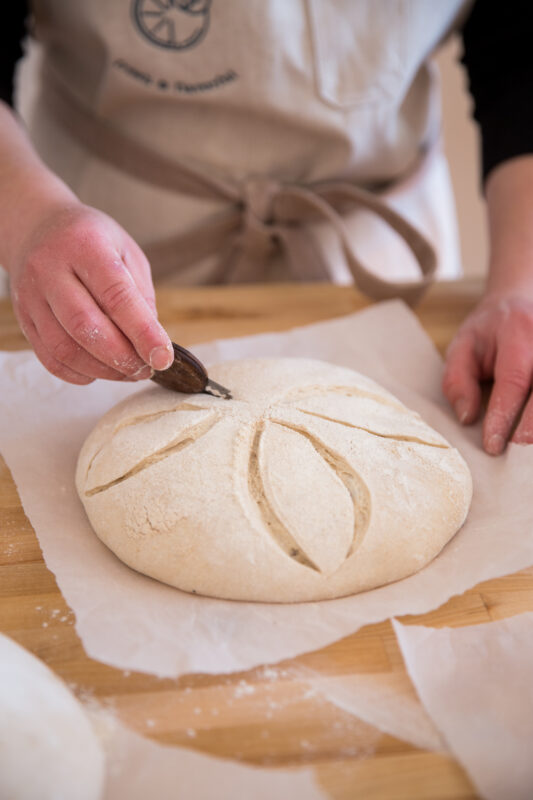 Scoring Sourdough
Scoring, or slashing, is a crucial step when baking sourdough, particularly at high temperatures.
The rapidly formed crust can cause the bread to crack and shape unpredictably if the loaf is not scored. Scoring creates weak points that let the expanding bread open uniformly and control the gas escape during baking, which maintains the bread's shape and contributes to a well-risen loaf. This controlled expansion and the artistic touches scoring brings about make it an essential step for achieving beautifully shaped, aesthetically pleasing sourdough bread.
Score While Dough Is Cold
It is easier to score the bread when the dough is cold. If you are fermenting the dough in the fridge then score right out of the fridge then place in oven right away (dont bring it to room temp). If you are leaving your dough out at room temp to rise then place in the freezer the last 15 min before baking. This will help firm up the dough.
Be Creative
You can make whatever design or pattern you like. Just keep in mind that the pattern will influence the loaf's final shape.
A single, longitudinal score can cause the loaf to spring upwards, resulting in a tall, round bread, while multiple diagonal slashes tend to encourage sideways expansion, yielding a wider, flatter loaf.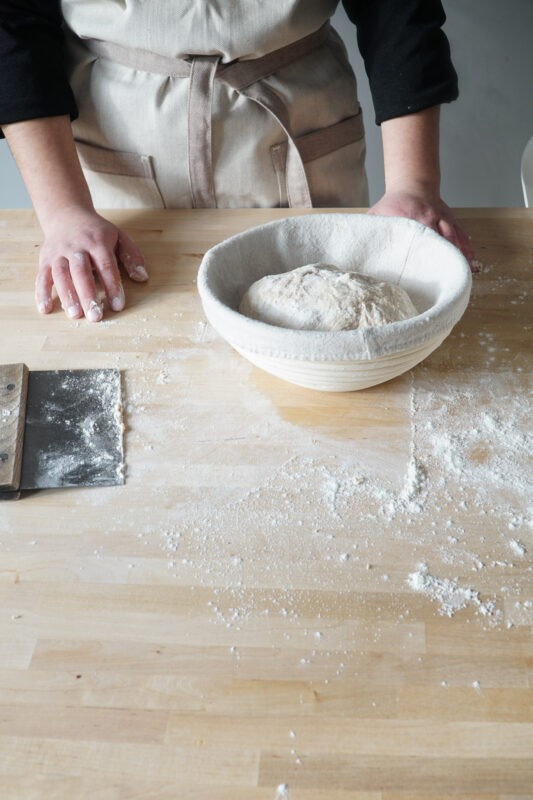 Why You'll Love This Sourdough Recipe
I created an easy, no-fuss sourdough recipe for beginners because I was just like you. I know the frustration of failed starters. And the sheer exaltation of a successful, fluffy, sourdough loaf, hot out of the oven.
When I first heard of sourdough bread over a decade ago, I was intrigued by the idea of making a unique and flavorful healthy bread from scratch. Little did I know, I was in for a learning curve, resources were limited and there was not much information available. It took a lot of trial and error, but I eventually mastered the technique and created a simple sourdough bread recipe that produces a crusty, flavorful loaf. Since 2014 I have been teaching my methods and recipes to thousands of people.
With this simple method you can easily make a delicious and crusty sourdough bread with every batch. After mastering the basics, you can experiment with different flours and techniques to customize your bread.
This Is Just The Beginning
I can confidently say that anyone can make delicious, crusty sourdough bread following my simple recipe. With patience and practice, you too can become a master baker!
Of course, after you get started (pun intended, lol) you can progress to some of the many recipes with sourdough featured here. Imagine Apple n' Honey bread Sourdough donuts will be sure to impress everyone at your holiday parties. Sourdough cinnamon buns. Having a barbecue? Make some sourdough hamburger buns! I'm sure your kids will love them with all the fixings, I know mine do. A Barbeque is one of those all-time favorite meals in my house that wouldn't be complete without these soft and delicious rolls.
Need More Help?
Still scared? Don't be, I'm right here to the rescue. Just sign up for my classes or order my Bread Basket Course+ kit bundle. I know you'll be hooked just like I was and soon be on your way to wowing everyone, most importantly-yourself
You will be so proud of yourself after you accomplish making this scrumptious Country loaf that you'll want to make it for all of your friends and family. After creating this masterpiece, try some of my yummy recipes with sourdough bread (link to internal recipes).
Making a basic sourdough bread requires only a few ingredients: bread flour, whole wheat flour, water, and a sourdough starter. With this basic sourdough bread recipe, you will be able to confidently make your first delicious loaf!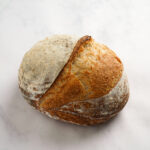 Basic Sourdough Country Loaf Recipe
Making basic sourdough bread is shockingly simple. This is such an easy recipe that anyone can make delicious and fluffy homemade sourdough bread.
Servings
Equipment
Large Bowl

Towel

Dutch Oven

Wire Rack
Ingredients
100

grams

Active Sourdough Starter

bubbly sourdough starter

450

grams

White Wheat Bread Flour

50

grams

Whole Wheat Flour

375

grams

Water

(room temp or lukewarm if the ambient temp is cold.)

10

grams

Salt
Instructions
Preparing the dough
In a large bowl, combine the active sourdough starter and water, leaving behind 25g of water for later use.

Add the whole wheat flour and white wheat bread flour to the bowl.

Mix the ingredients well until a rough dough forms. It's okay if the dough is sticky at this point.
Autolyse
Cover the bowl and leave to rest for 30-60 minutes.

After 30-60 min of rest add 25 g of water and 10g salt, and knead until salt and water is combined into dough.
Bulk Rise (a.k.a. 'bulk ferment')
Cover and set the bowl in a warm area (75-80 degrees) for 3 to 4 hours or for 6-8 hours in a cooler place.

During this time, perform a stretch and fold every 30-40 minutes*.
Bench Rest
Scoop the dough onto the countertop.

Lightly flour the top of the dough. Very gently turn over the dough so the floured side is face down, and fold the dough on all 4 ends, gently shape into a round boule.

Leave the dough to rest for 20 minutes. The edges should be round and thick (it's ok if it flattens a little) but they should not taper off. If they taper or flatten off, reshape and let sit for another 20 minutes (this is like doing another set of folds during the bulk rise).
Shaping
Sprinkle a lined bowl or banneton with flour.

Fold bottom third up, right side third over, left side third over, top third over and then roll the entire loaf over and gently pull toward you, letting tension form the loaf. Place in a prepared bowl.

Once the dough is shaped you can let it rise for 3 to 4 hours at room temp or place in the refrigerator for up to 12 hours (known as 'retard').
Baking
Place your Dutch oven in the oven and preheat the oven to 500°F

Place a sheet of parchment paper over the work surface or kitchen counter. Gently invert bread from the bowl onto parchment paper.

When fermenting your sourdough in the fridge, you can score and bake it right out of the fridge – no need to bring it to room temperature before scoring.

Score the top of the bread.

Bake at 500°F, covered, for 20 minutes.

Remove lid, lower temperature to 450° and continue to bake for an additional 20 – 30 minutes until crust is a rich dark amber color.

Let it cool on a wire rack.
Notes
*If you cannot attend to the dough during the bulk ferment to do the stretch and fold, simply knead the dough for an extra 5-7 minutes when adding the salt and skip the stretch and fold.