Back in 2015, I embarked on a mission to create the perfect donut. My experiments were quite successful, as you can see here. The catch? I scribbled the final recipe on a napkin or an old envelope, thinking, "I'll put this on something more permanent when I get a chance…"
Well, you can guess what happened.
Life became hectic, and that precious piece of paper either got tossed out or vanished into the same mysterious void where all our missing socks go when they disappear from the dryer!
Fast forward four years, and I found myself struggling to recreate that recipe.
But I did it! After at least five attempts and countless taste tests – much to my kids' delight – I've finally perfected it. And now, I'm excited to share my wonderfully delicious sourdough donut recipe with you!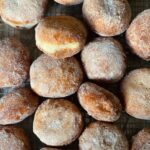 Sourdough Sufganiyot (Donuts)
Tried and true, perfect delicious sourdough donut recipe!
Servings
Ingredients
Dough Ingredients
530

g

All purpose flour

200

g

Active sourdough starter

85

g

Neutral oil

(preferably avocado oil)

85

g

Water

100

g

Sugar

(sugar in the raw recommended)

2

Eggs

1

Egg yolk

20

g

Brandy

(optional)

8

g

Salt

Frying Oil – I like to use refined coconut oil as it does not give a coconut flavor, otherwise I recommend any high heat neutral oil, such as avocado.
Strawberry Cheesecake Filling (optional)
1

cup

Heavy cream

1

cup

Strawberry jam

(sugar-free preferred)

4

oz

Cream cheese

Powdered sugar

(optional)
Instructions
Dough
In a mixer fitted with a dough hook, combine all ingredients (besides frying oil), and mix on high speed for 5-8 minutes in order to properly develop the gluten.

Transfer the dough to a bowl and cover.

Leave to rest (first rise) at room temperature for 2-4 hours.

Place the bowl in the refrigerator and allow the dough to cold ferment for an additional 8-15 hours.
Shaping
Before shaping, remove the dough from refrigerator and allow it to come to room temperature. 1-2 hours.

Shape your donuts using either one of the two methods below.

Shaping method 1: Lightly flour your surface. Roll out the dough to about ½-inch thick. Using a 2-inch round cookie cutter, cut out rounds of the dough. Re-roll the scraps as needed.Pro tip: Avoid rolling the donut too thin so to prevent them from turning dense and flat.

Shaping method 2: Divide the dough into 65g portions. Shape each portion into a smooth ball for a uniform size and even cooking.

Place the shaped dough on a lined baking sheet, cover loosely with plastic wrap or a dish towel.

Pro tip: Cut the paper around each donut, so you can easily lift one at a time and slide into the pot when frying (see video)
Final Rise
Leave to rest (final rise) at room temperature for 4-5 hours.
Frying
Pre-heat your oil in a deep pot 325-330° F.

Fry the donuts until golden brown, flipping them over half way through. [About 1.5-2 minutes per side].

Place on a cooling rack and allow them to cool off before filling.
Strawberry Cheesecake Filling (optional)
In a mixer, beat the heavy cream until stiff peaks form.

Add the cream cheese and jam, and continue to mix until well combined.

Fill a pastry bag with the filling and inject it into the donuts.

Dust with powdered sugar and enjoy!