I believe in the power of simple, natural ingredients to create delicious and nutritious meals. And this beer batter recipe made with sourdough discard is no exception! Not only does it result in a crispy, flavorful batter, but it also helps reduce food waste by using up your sourdough starter that might otherwise go to waste.
But what is sourdough discard, you ask? It's simply the portion of your sourdough starter that's discarded during the feeding process to keep the yeast culture alive and active. And it turns out, it makes a great addition to this beer batter recipe!
As someone who believes in a balanced healthy lifestyle, I know that deep frying can often get a bad rap. But I also believe that it's okay to indulge in some crispy, golden-brown goodness from time to time, especially when you use healthier options for oil. And that's exactly what I did when I set out to make fish and chips this afternoon. I saw my sourdough starter sitting on the counter and decided to add it to my batter on a whim, and let me tell you – it was a great decision! The fish came out wonderfully soft and flaky while the batter got really crispy and delicious that sets it apart from traditional beer batter.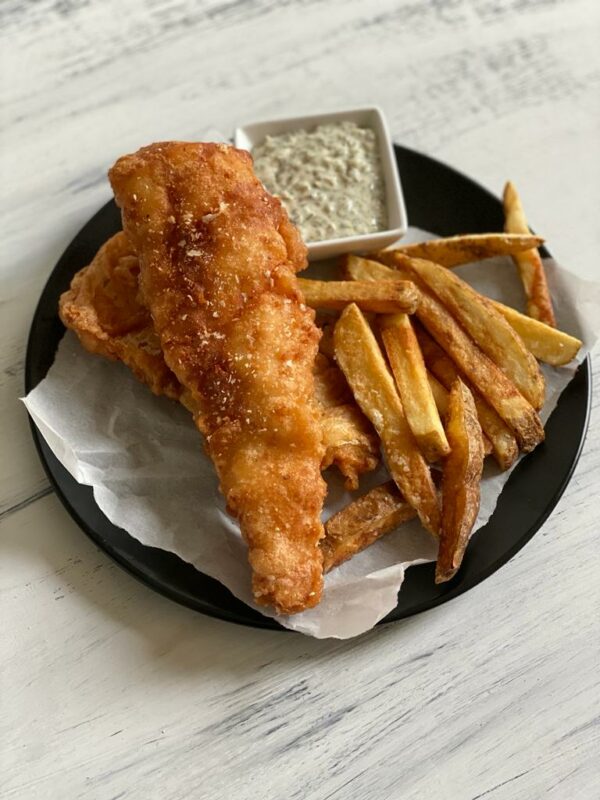 Making this beer batter with sourdough discard is a great way to add a new twist to a classic dish. In addition to the unique flavor and texture that sourdough adds to this beer batter recipe, it also provides a health benefit that sets this batter apart from others, and the crispy texture perfectly complements the soft and flaky fish.
Fish n chips made with sourdough discard was a spur of the moment idea this afternoon and wow was it a great idea!! The fish came out wonderfully soft and flaky while the batter got really crispy and delicious.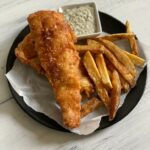 sourdough dicard beer batter
Enjoy a crispy, flavorful, and nutritious beer batter made with sourdough discard. Perfect for frying fish, chicken, or vegetables, this recipe uses simple, natural ingredients for a tasty meal.
Servings
Ingredients
3/4 cup rice flour (which is important because it gives the batter a nice crunch, as rice flour gets crispy when fried)
1/2 cup all-purpose flour
1/2 cup sourdough starter (can be discard)

1 3/4

cup beer or setltzer
2 Tbsp malt vinegar (or any vinegar you have)
2 tsp salt
Black pepper

3

lb

white flesh fish such as cod or flounder
Instructions
Mix all of the ingredients together in a bowl.

Let the batter sit for at least 1-2 hours or overnight in the fridge.

Dip your fish in the batter and fry until golden brown.
Notes
Helpful tips:
This beer batter recipe can be used for frying fish, chicken, or vegetables, making it a versatile and delicious addition to your meal repertoire. So, without further ado, let's dive into this amazing recipe that's not only delicious but also made with sourdough discard!