"Baking with a Sourdough Twist: The Comforting Aroma of Cinnamon Buns
Ah, the smell of freshly baked cinnamon buns! There's something truly comforting about it, isn't there? Every time I smell it, I'm taken back to cozy moments spent with my family, surrounded by the warm, sweet scent of baked goods.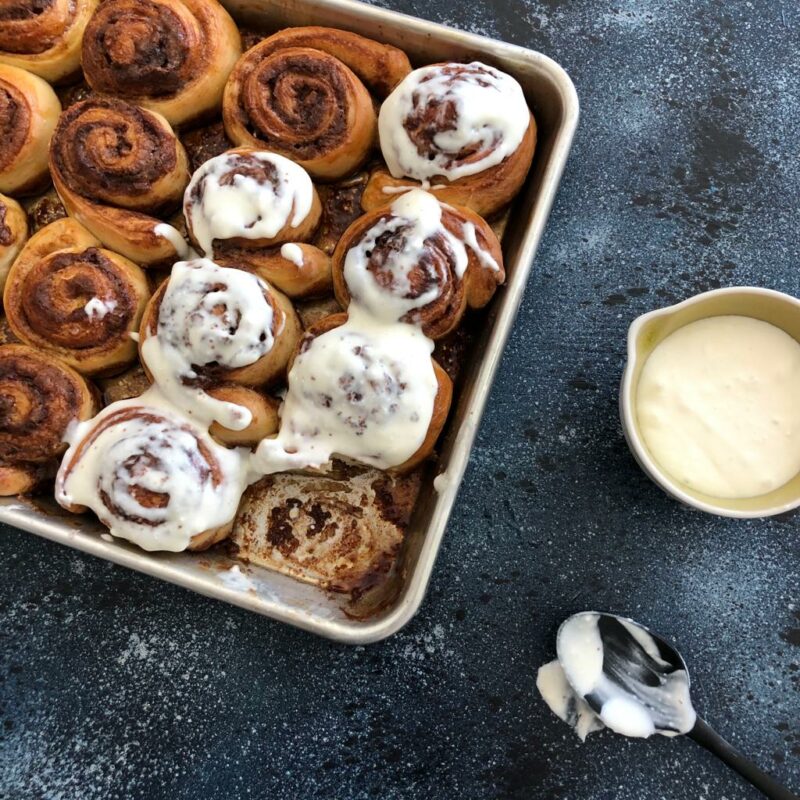 As a sourdough enthusiast, I've always loved experimenting with my starter, which I lovingly named Chaos, over the past decade. Over the years, I've baked countless delicious creations using this trusty ingredient, and the sourdough cinnamon buns recipe I'm sharing with you today is one of my absolute favorites.
Using my sourdough starter in place of commercial yeast, I've created a unique twist on the classic cinnamon bun recipe. The end result is a delicately balanced treat that is soft, fluffy, and perfectly infused with the warm and comforting flavor of cinnamon.
If you're a fan of sourdough, or simply looking for a new twist on a classic recipe, I highly recommend giving this one a try. Trust me, once you've tried a sourdough cinnamon bun, you'll never go back to a traditional version. So, fire up that oven, whip up a batch of these buns, and bask in the comforting aroma that only a warm, gooey cinnamon bun can provide."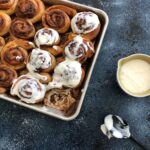 sourdough cinnamon buns
Sourdough cinnamon buns are a classic treat that can be made easily at home with this simple recipe. The combination of a sourdough starter and the sweet and spicy filling makes these buns a delicious and irresistible treat
Servings
Equipment
1 (optional)oven safe pan
Ingredients
200g active starter
500g all-purpose flour
50g honey
80g coconut oil (or oil of your choice)
185g warm milk or coconut milk
3 eggs
5g salt
For the filling:
200g brown sugar
35g melted butter
1 Tbsp cinnamon
Instructions
In a stand mixer, combine all the ingredients for the dough and knead for 5-8 minutes using the dough hook.

Transfer the dough to a bowl, cover it, and let it rise at room temperature for 8-10 hours or in the fridge overnight, If storing in the fridge, remove 2 hours before rolling the dough

On a well-floured surface, roll out the risen dough into a 14×9 inch rectangle.

Spread softened butter over the dough, leaving a ¼ inch margin at the far end.

Mix together brown sugar and cinnamon in a bowl and sprinkle over the buttered dough.

Roll up the dough tightly, starting from the 9-inch side, and place seam-side down, seal the edges.

Cut the roll into 1 inch slices using a floss or sharp knife.

Place the cinnamon buns in a greased 9×13 inch baking pan lined with parchment paper for extra protection.

Cover the pan with a towel and let the buns rise for another 30-45 minutes.

Preheat oven to 350°F and bake for 20-25 minutes or until slightly golden brown at the edges.

Allow to cool for 5-10 minutes before frosting. Enjoy your delicious sourdough cinnamon buns!
Optional Cream Cheese Frosting:
4 oz cream cheese3/4 cup powdered sugar1 Tbsp milk

Mix all ingredients together and frost your sourdough cinnamon buns for an extra burst of flavor!