The popularity of sourdough in recent years has led to a rise in awareness about the advantages of the beneficial bacteria in fermented foods. During the fermentation process, natural yeasts and beneficial bacteria work together to convert carbohydrates and other compounds into lactic acid, which gives fermented foods and beverages their distinctive "sour" taste. In addition, fermentation helps preserve the nutrients in food for longer periods of time, increases its shelf-life, and makes it easier for our bodies to digest.
Less well-known, but with some of the same amazing properties as sourdough starters, garlic fermented in honey has become increasingly popular as well. Many people are put off by the intimidating sourdough process. Is fermented honey garlic more approachable? As a matter of fact, it's quite simple to make this healthy and nutritious condiment.
Nine years ago, I started fermenting cabbage, pickles and beets, but I was always searching for more resources, inspiration and information on the world of fermenting. About two years into the process, I came across a nondescript article about something called "fermented honey garlic." Could this be the recipe I was searching for? I was certainly intrigued. My search on the web didn't reveal much useful information. I love the challenge of experimenting in the kitchen so I decided to explore on my own. After looking up basic instructions, I pulled out my mason jars, raw honey, and garlic cloves and I was ready to go. Before long, I had fermented the garlic and honey and was thrilled with the results! Since that first time, fermented garlic honey has become a staple condiment in our house. In fact, when we moved six years ago, I stored a jar of fermented honey on a high shelf to put it out of the way. It was a few years later when I came across the jar again, and we used it with no issue at all.
So how simple is it to make fermented honey? You may be surprised to learn that garlic can be rather easily fermented in raw honey, and the fermentation process creates a delicious product that is a nutritional powerhouse, especially useful for the cold winter! Let's explore the procedure for fermenting garlic in honey, the health benefits that result, and how to best store the end product.
Honey has been used for medicinal purposes for centuries, and its antibacterial and anti-inflammatory properties have been well documented in medical literature. Raw honey contains high levels of powerful antioxidants and can bolster the immune system. Local raw honey, which hasn't been pasteurized or processed, is especially favorable, as it contains pollen from local plants that can aid in fighting allergies. In order to preserve the natural enzymes and nutrients in raw honey, you should use it for this recipe. Pasteurized honey loses many of its natural advantageous properties and is not as nutritious as raw honey. One nice perk is that unlike regular unpasteurized honey which contains natural yeasts that can produce botulism, fermented honey has a lower sugar content and is safe to consume.
Similarly, raw garlic is also touted for its health benefits. Garlic cloves contain powerful compounds such as allicin, which is known to fight off infection and reduce inflammation. Garlic cloves are rich in many vitamins and minerals including magnesium, potassium, phosphorus, selenium, and manganese. Garlic is also high in vitamins A and C, which are both important for boosting the immune system. Eating garlic can help support the immune system and prevent sickness, even more so when combined with raw honey.
Fermented honey garlic is a condiment that gets its flavor and nutrition profile from the process of fermenting the raw honey and garlic. The fermentation process increases the potency of honey's health benefits by activating enzymes that weren't available in its raw form. Fermented honey preserves the natural yeast, allowing it to serve as a probiotic and support gut health. As for the garlic, although you may have doubts about eating raw garlic cloves, the process of fermenting the garlic in honey makes them not only more palatable, but they are transformed into an immune-boosting condiment. Think of it as sauerkraut's tastier cousin!
You may be wondering, what can fermented honey do for you? The natural sugars in both ingredients feed the growth of beneficial bacteria, producing organic acids, enzymes and probiotics that can help improve your overall health. It can help to stimulate digestion, boost the immune system, reduce inflammation, improve skin health, and even assist in weight loss. Fermented honey garlic is a powerhouse of nutrition, providing essential vitamins and minerals for optimal health.
Ingredients for Fermented Honey
So what ingredients do you need to make fermented honey? The recipe is as basic as it gets: raw, whole garlic cloves and raw, unpasteurized honey. Raw honey and garlic both offer numerous health benefits on their own, and when combined in a fermented honey-garlic mix, they become even more potent. Read on to find out how to make this amazing, immune-boosting condiment at home!
After fermenting, the honey garlic can be used in a variety of recipes for added flavor and nutrition. The honey has a subtle, savory garlic flavor, while the garlic mellows out and takes on a sweet flavor from the honey. How can you use your fermented honey garlic? There are a myriad of possibilities. Swallow a spoonful as soon as you start to feel under the weather or someone in your household is sick, to help stave off the viral germs. Alternatively, it can be added to warm water for a sweet and healthy tea. Use the honey and/or garlic as a salad dressing, whisked together with some olive oil, acid (such as lemon or vinegar), and salt. Crush the garlic and shmear on fresh bread. Drizzle the honey over toast or baked fish. Or, just eat it by the spoonful– it's that good!🙂
When making fermented honey garlic, it's important to use a glass jar, (organic) garlic, and unpasteurized to ensure the most health benefits. You'll want to plan a bit in advance, since it will take about three weeks for your fermented honey to be ready to use. Once the honey has fermented, be sure to leave some space at the top of the jar for air circulation while being stored. For optimal flavor, shelf-life and nutritional value, store the jar at room temperature, in a dark place, for up to three months.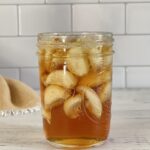 Fermented Honey Garlic
Fermented honey garlic is a condiment that gets its flavor and nutrition profile from the process of fermenting the raw honey and garlic. The fermentation process increases the potency of honey's health benefits by activating enzymes that weren't available in its raw form.
Servings
Ingredients
2-3

bulbs

Fresh garlic cloves

3

cups

Raw honey

1

qt

Clean glass jar
Instructions
Peel the garlic cloves and add them to the glass jar.

Completely cover the garlic with raw honey.

Place the jar in a dark place at room temperature.

After a day or two the honey will begin to transform and have a more liquid consistency. That's normal.

You should see bubbles rising to the top. That's a sure sign that the fermentation process is happening!

Every 2-3 days, open the lid to "burp" (let the air out from) the jar.

Continue this process for 1-3 weeks before using. Once it is fully fermented, you won't need to "burp" the jar.

The garlic will float to the surface. As long as the garlic is fully coated with honey it should be ok.

It's important to keep the garlic submerged in the honey. It helps if you turn the jar upside down.

This fermented honey garlic can last for many months, and even longer, if stored properly.