When I first heard of sourdough bread over a decade ago, I was intrigued by the idea of making flavorful, healthy bread from scratch. Although there wasn't much information available online (remember the internet 10 years ago?) I jumped right in. It took some trial and error on my part, but eventually, I mastered the technique and created a simple sourdough bread recipe that produces a crusty, flavorful loaf, just the way I like it. Since 2014, I've been teaching my methods and recipes to thousands of people.
Making your own basic sourdough bread isn't difficult- at all! It can be intimidating for beginners, but with the right technique, anyone can make a delicious loaf. All you need are a few basic tools and ingredients (link to dutch oven, flour articles) and some time and patience (link to starter article). My recipe is simple and traditional. You'll be baking homemade bread with it in no time, and once you master the basics, you can experiment with different flours, ratios and add-ins to customize your bread. I've got plenty of recipes on the site, like Apple n' Honey bread (a huge hit during the High Holidays!) sourdough doughnuts, cinnamon buns and even hamburger buns, without which no barbecue at my house is complete.
I can confidently say that anyone can make a delicious, crusty loaf of sourdough following my recipe. With patience and practice, you too can become a master baker!
Still scared? Don't be, I'm right here to the rescue. Just sign up for my classes or order my Bread Basket Course+ kit bundle. Soon enough, you'll be on your way to wowing everyone- most importantly: yourself.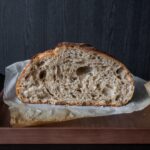 Basic Sourdough Country Loaf
75% Hydration
My recipe is simple and traditional. You'll be baking homemade bread with it in no time, and once you master the basics, you can experiment with different flours, ratios and add-ins to customize your bread.
Servings
Equipment
1 Just to show you what it'll look like
Ingredients
100

g

Active sourdough starter

(bubbly sourdough starter)

450

g

White wheat bread flour

50

g

Whole wheat flour

375

g

Warm water

(350 for initial dough+25 for when adding salt)

10

g

Salt
Instructions
Feed your starter 6-8 hours before baking.
Preparing the dough
In a large bowl, combine 100g leaven and 350g of water and mix well.

Add the whole wheat and bread flours and mix until well incorporated.
Autolyse
Cover the bowl and leave it to rest for 30-60 minutes. This step allows the gluten to develop without the interruption of salt.

After 30-60 min of rest, add 25 g of water and 10g salt, and knead until the salt and water are combined into dough.
Bulk Rise (a.k.a. 'bulk ferment')
Cover and set the bowl in a warm area (75-80 degrees) for 3 to 4 hours or for 6-8 hours in a cooler place (during the winter season, you can put it in a turned-off oven with a hot pan of water, or next to the stovetop near a pot of simmering water).

During the bulk rise, perform stretch and folds every 30-60 minutes. Stretching and folding the dough allows the gluten to strengthen and develop without harsh kneading, which would knock out the gas bubbles that develop during fermentation. Towards the last hour of the bulk ferment, fold the dough more gently to avoid pressing gas out of the dough.
Bench Rest
Scoopt the dough onto the countertop.

Lightly flour the top of the dough. Very gently turn over the dough so the floured side is face down, and fold the dough on all 4 ends, gently shaping it into a round boule.

Leave the dough to rest for 20 minutes. The edges should be round and thick (it's ok if it flattens a little) but they should not taper off. If they do taper or flatten off, reshape and let sit for another 20 minutes (this is like doing another set of folds during the bulk rise).
Shaping
Sprinkle a towel lined bowl or a banneton with a 50/50 blend of rice and white flours.

Fold the bottom third up, right side one third over, left side third over, top third over and then roll the entire loaf over and gently pull toward you, using tension to form the loaf. Place in the prepared, flour dusted bowl.

Let rise for 3 to 4 hours at room temp or place in refrigerator for up to 12 hours (this is known as 'retarding the dough'- it slows down the rising process while allowing deeper flavor to develop).
Baking
Place your Dutch oven in the oven and preheat the oven to 500°F.

Gently place the dough into the Dutch oven, and score the top of the bread.

Bake at 500°F, covered, for 20 minutes.

Remove lid, lower temperature to 450° and continue to bake for an additional 20 – 30 minutes until crust is a rich, dark amber color and sounds hollow when you knock it.

Let it cool on a wire rack before slicing.
Notes
This is the notes section…. Just to show you what it'll look like…