Description
Using tools you already have, easy-to-follow video instructions, and expert guidance so your bread comes out delicious
Sourdough baking doesn't have to be confusing or complicated, time-consuming, or demand tremendous effort or attention. You CAN fit it into your busy lifestyle…if you know how.
As a veteran baker, I am committed to ensuring that sourdough baking is absolutely within your ability and much easier than you've imagined.
Forget all the failed recipes or flat, tough bread you may have created in the past. As a student of this course, you'll have access to my simple method and a supportive community of fellow sourdough bakers.
Master the art of sourdough baking at home…The easy way!
What Included?
Lifetime access to 'Mastering the Art of Sourdough Baking'
Our signature, online course. With easy to follow, step-by-step video tutorials, PDF files, recipes, and resources
Private members-only online community
for support, troubleshooting + accountability
Bonus video on beautiful scoring
The only program of its kind
Doesn't require you to know lots of complicated science and dough theory
Doesn't demand hours and hours of time and effort
Doesn't need any special equipment beyond a common kitchen scale
Allows you to learn at your own pace and at your own time with on-demand videos
Allows you to use one basic recipe to make a wide variety of breads, rolls, and sweets
Course Modules
Module 1
Understanding Sourdough Starter
We'll introduce the concept of the starter and explore the creation, care, and feeding of a healthy starter along with how to discard it if needed.
Module Highlights:
Starting the starter
How to use your scale
How to feed the starter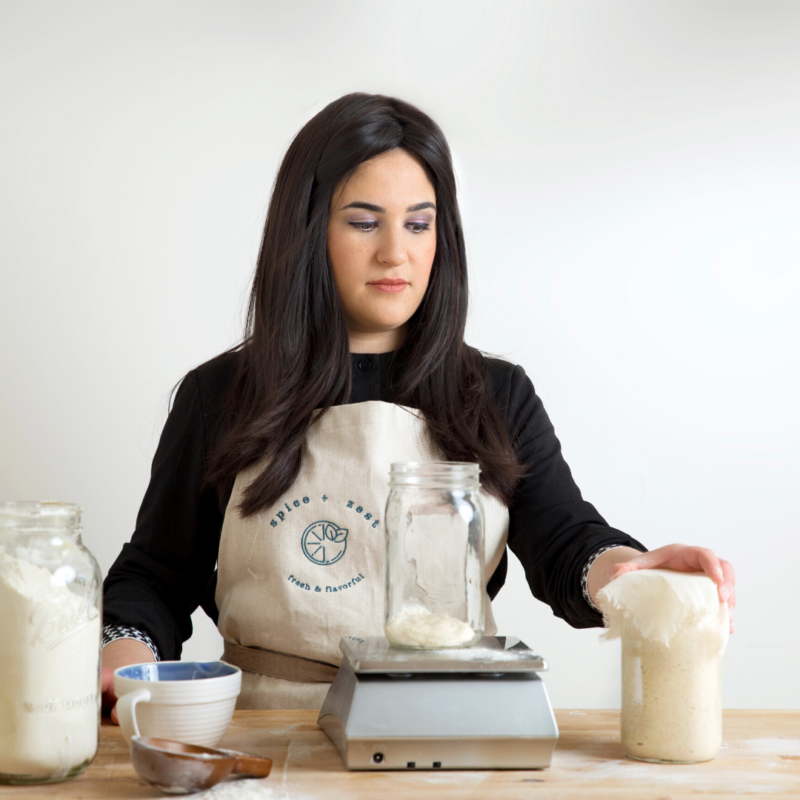 Module 2
Feeding, Maintaining, and Storing Starter
We'll learn what you can do to improve your starter, ensure it stores well while you're not baking, and get it ready for baking using alternative feeding methods.
Module Highlights:
When your starter is ready
Storage + Maintenance
How feeding affects timing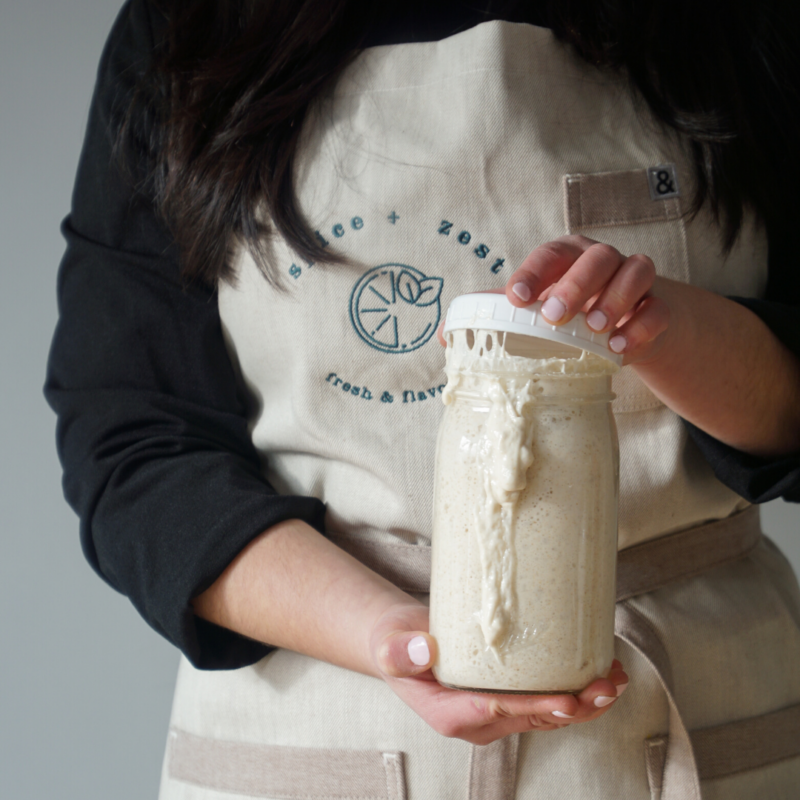 Module 3
Baking Sourdough Bread
We'll take your Starter and turn it into a dough that will eventually become delicious and healthy sourdough bread. We'll cover mixing, fermentation, stretch and fold, and resting and rising. Then we'll score it, bake it, and eat it!
Module Highlights:
Going from starter to dough
Resting, Shaping, and Rising
How to score and bake to perfection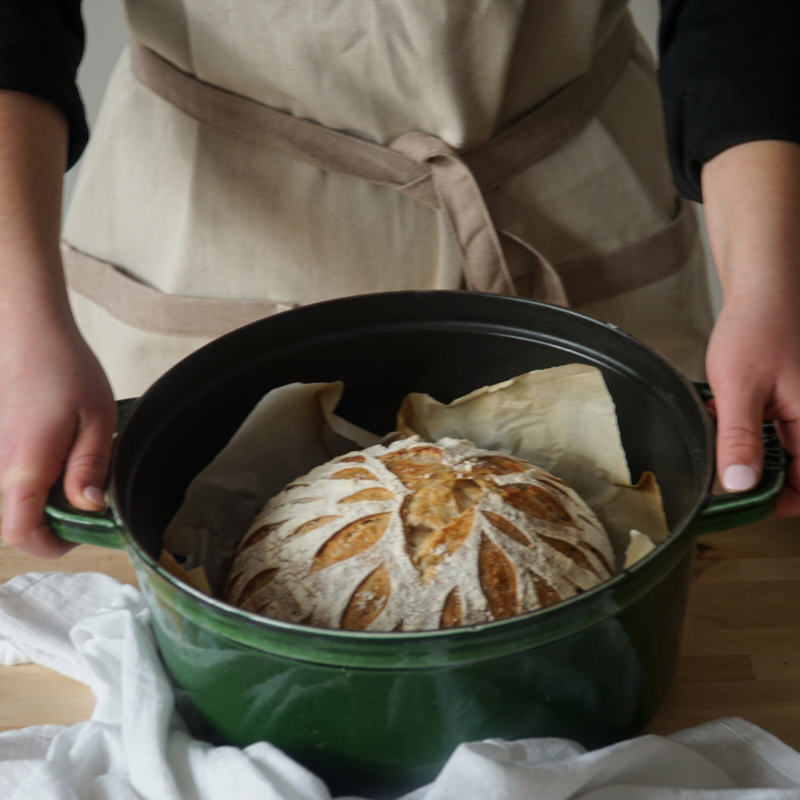 Sourdough bread is a rarity.
It's a healthy bread option that brings family (and friends!)
to the table in a flash.
The crunchy crust and hearty flavor compliments any meal and my simple and sure-fire method is flexible enough to create breads, bagels, sweet treats, and more without the fuss!
Have you already experimented with baking sourdough bread – with humorous or even disastrous results? (We've ALL been there!)
Perhaps you joined a local class where so much time was spent on the science of sourdough it made your head spin?
Or worse, did someone tell you that you needed to buy a long list of expensive tools and special equipment?
Well, then I've got some great news for you!
Yummy, good-for-you sourdough bread doesn't need to be complicated or confusing.
Today I am going to give you an opportunity to get access to my step-by-step method that will show you exactly how to bake great-tasting sourdough bread quickly, simply, and deliciously – right from your own kitchen!
Sourdough Facts You
MIGHT NOT KNOW
Sourdough is easier to digest
Sourdough bread contains live wild yeasts that do some of the digesting for you. This often results in less digestive distress and irritability for many who might normally shy away from conventional yeast breads and baked goods.
Sourdough rarely tastes sourBecause sourdough bread begins as a fermented food – just like sauerkraut, kefir, pickles, and kombucha, it can often taste a little more sour than typical white bread. Ultimately, this depends on the starter and the process used – but if done correctly, it rarely tastes sour at all!
Sourdough is NOT gluten-freeSourdough is not Gluten-Free and isn't suitable for everyone with Celiac or Crohn's's Disease (IBD), or those with severe forms of IBS. Those with milder gluten sensitivities are often able to tolerate sourdough better than conventional yeast breads. So proceed with caution!
Sourdough baking does NOT take lots of timeYour actual hands-on time is usually less than 30 minutes using this simple method. It can take anywhere from 8-36 hours to finish a loaf of sourdough bread, but most of that time consists of your dough doing its thing while you do yours.
Sourdough bread recipes are NOT complicatedSure, there's some prep work and maintenance of your starter, but the process of taking your starter from dough to delicious is fairly straightforward. Plus, my students can rely on my proven step-by-step method that makes the whole process incredibly simple.